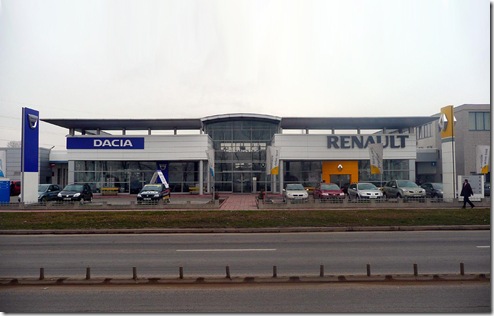 Dacia and Renault are celebrating today 10 years from the entry of the Romanian car manufacturer in the Renault Group. On 2 July 1999, Renault bought 51% of Dacia, and in the next year has already launched the first model of Dacia with Renault engine. In ten years of collaboration with Renault, Dacia has produced over 1.320.000 cars and over 1.400.000 engines. The cars produced by Dacia became very popular in 60 countries and territories around the world, 80% of the current production of Dacia Mioveni factory is for export.
To reach the current level, Renault has invested over 1.5 billion euros in the Mioveni Factory, In Renault Mecanique Roumanie, Renault Technologie Roumanie, in the Testing Center in Titu and in the Design Center in Bucharest. Initially, Renault was committed to invest up to 10 times less compared to what has been invested so far, but the money were not spent in vain because the Dacia factory in Mioveni was completely restructured and modernized.
Renault is the only car manufacturer that has a design center in Central and Eastern Europe. Renault design center in Romania was inaugurated in June 2007 and created the first model, Dacia Duster, that was presented in March 2009, at the Auto Motor Show in Geneva. Dacia Industrial Platform in Mioveni has become the largest manufacturing center in the Renault and Dacia was transformed from a national in an international brand. The most important engineering Renault group outside of France  is in Romania, and was inaugurated in 2006.
The model that made Dacia famous was Logan whose project started in 2004 under the name "X90". In just five years, the Logan has five different models that are available in 30 versions and are sold in 70 markets around the world. In 60 of these markets, the Logan is sold under the Dacia brand. What is really important is that the Logan Renault Logistic Center in Romania is feeding all the factories that produce Logan and Sandero models in the world.
The evolution of the capacity of production of the Mioveni factory.
| | | | |
| --- | --- | --- | --- |
| Year | Production | Sales | Export |
| 2000 | 55.817 | 52.403 | 2.270 |
| 2001 | 52.169 | 54.368 | 2.355 |
| 2002 | 57.387 | 57.681 | 4.939 |
| 2003 | 72.670 | 69.166 | 11.292 |
| 2004 | 94.719 | 98.908 | 18.595 |
| 2005 | 172.021 | 163.899 | 50.623 |
| 2006 | 188.461 | 187.215 | 79.438 |
| 2007 | 222.914 | 230.473 | 128.411 |
| 2008 | 242.385 | 257.854 | 172.886 |