After only 10 months of presence in the UK market, Dacia has succeeded to deliver the car with the number 10,000. Orders placed by the British  customers have exceeded 11,500 units, more than the Romanian car manufacturer officials expected.
At exactly 10 months after its debut in the UK market, Dacia registered a notable performance. The Pitesti manufacturer delivered the car with the number 10,000 in the United Kingdom, a Duster painted in Granite Grey, with Ambiance equipment level and four-wheel drive. The 10,000 owner of a Dacia model is Elma Marshall, who works in a hospital in Motherwell, Scotland.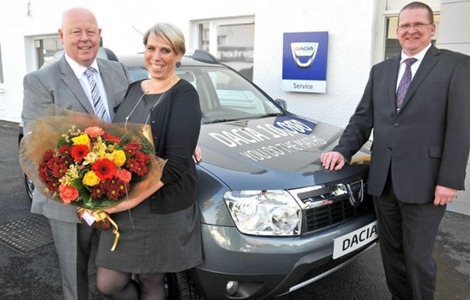 "Before I went to the local dealer, I read more about Dacia on the internet. That fact that the Duster has been declared Car of the Year in Scotland had some influence. As soon as I sat in it I felt comfortable and I felt that I will be useful in the long winter days. I knew also that if I would choose the top version it will be a good deal compared to other cars on the market. I have already received some positive feedback from colleagues at the hospital and I even pulled a few exclamations in parking lots, "said Elma Marshall.
Dacia enjoys this success only selling two models on the UK market: Duster and Sandero alongside its derivative Sandero Stepway. The third model, the new Logan MCV will be launched in the UK this autumn.
So far, from 1 January to 1 October, Dacia recorded 11,500 orders. Of these, 5600 were for the Duster and 5400 for Sandero, a quarter of which are Sandero Stepway. The rest orders up to 11,500 were for the new Logan MCV, whose orders have already been opened.