Dacia managed to register the biggest sales in 2014 in the 43 markets worldwide, with important sales in France, Germany and Spain.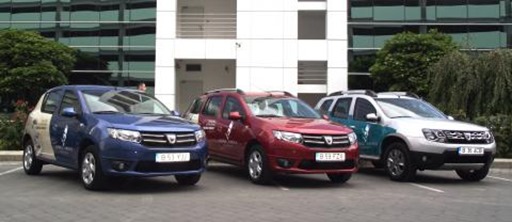 Dacia managed to sell 511,465 units in 2014, the best year so far for the Romanian car manufacturer. The best selling model is Sandero (including the Stepway version) with 169,021 units of which 80% were sold in Western Europe. The second best selling model is Duster with 160,318 units with important sales in France, Spain and Romania, while the third best selling model is Logan with 98,849 units mostly sold in Eastern Europe.
"2014 will enter in the Dacia history as the first year when we sold over 500,000 units, a year when we were the most dynamic producers in Europe. Dacia enters an exclusive group of car manufacturers that sell 500,000 cars per year. It is an important source of pride because we have a sell increase with 19% compared to 2013, " said Jan Ptacek, Dacia sales manager.
Best selling models for Dacia in 2014:
| | | |
| --- | --- | --- |
| Nr. | Model | Units sold |
| 1 | Sandero (incl. Stepway) | 169,021 |
| 2 | Duster | 160,318 |
| 3 | Logan (incl. MCV) | 98,849 |
| 4 | Dokker (incl. Van) | 56,214 |
| 5 | Lodgy | 27,063 |
The most important markets for Dacia in 2014
| | | |
| --- | --- | --- |
| Nr. | Country | Units sold |
| 1 | France | 105,893 |
| 2 | Germany | 50,704 |
| 3 | Spain | 45,986 |
| 4 | Italy | 39,964 |
| 5 | Algeria | 39,741 |
| 6 | Turkey | 34,469 |
| 7 | Morocco | 33,734 |
| 8 | Romania | 29,625 |
| 9 | United Kingdom | 23,862 |
| 10 | Belgium | 18,000 |